Junior Squads
| Time | Squad | Cost | Pay Format | Online Payment Reference |
| --- | --- | --- | --- | --- |
| Monday 12:15-1pm | Tots Tennis 2.5-4 years | £4 per session | Half-termly | M Tots |
| Monday 5:15-6.45pm | Junior Performance Squad 14-18 years – Invite | £7.50 per session | Termly | M1 |
| Tuesday 12:15-1pm | Tots Tennis 2.5-4 years | £4 per session | Half-termly | T Tots |
| Tuesday 4-5 pm | Mini Red 4-8 years old | £5 per session | Termly | T1 |
| Tuesday 4-5pm | Mini Orange 8-9 years old | £5 per session | Termly | T2 |
| Tuesday 5-6pm | Mini Green 9-10 years old | £5 per session | Termly | T3 |
| Tuesday 6-7pm | Junior Tennis 11-16 years old – Advanced | £5 per session | Termly | T4 |
| Tuesday 6-7 pm | Junior Tennis 14-18 years old – Beginner/Intermediate | £5 per session | Termly | T5 |
| Thursday 4-5pm | Mini Red 4-8 years old | £5 per session | Termly | Th1 |
| Thursday 4-5pm | Mini Orange 8-9 years old | £5 per session | Termly | Th2 |
| Thursday 5-6pm | Mini Green 9-10 years old | £5 per session | Termly | Th3 |
| Thursday 5-6pm | Junior Tennis 14-18 years old – Intermediate | £5 per session | Termly | Th4 |
| Friday 4-5pm | Mini Red 4-8 years old | £5 per session | Termly | F1 |
| Friday 4-5pm | Mini Orange 8-9 years old | £5 per session | Termly | F2 |
| Friday 4:30-5:30pm | Junior Tennis 14-18 years old – Intermediate | £5 per session | Termly | F3 |
| Friday 5-6pm | Junior Tennis 11-16 years old – Advanced | £5 per session | Termly | F4 |
| Saturday 9-10 am | Mini Red 4-6 years old | £5 per session | Termly | S1 |
| Saturday 10-11 am | Mini Red 6-8 years old | £5 per session | Termly | S2 |
| Saturday 10-11 am | Mini Orange 8-9 years old | £5 per session | Termly | S3 |
| Saturday 10-11 am | Junior Tennis 11-13 years old – Beginner/Intermediate | £5 per session | Termlu | S4 |
| Saturday 11-12pm | Mini Green 9-10 years old | £5 per session | Termly | S5 |
| Saturday 11-12pm | Junior Tennis 14-18 years old – Intermediate | £5 per session | Termly | S6 |
| Saturday 1-2pm | Junior Tennis 10-14 years old – Invite | £5 per session | Termly | S7 |
| Saturday 2-3pm | Junior Tennis 14-18 years old – Invite | £5 per session | Termly | S8 |
Junior session details
Tots tennis
Our tots tennis sessions are for children between 2.5-4 years old. We have use of the hall in bad weather conditions. Sessions focus on having fun developing their fundamental skills agility, balance and co-ordination whilst introducing racket skills. We use sponge balls or large red felt balls, bean bags and balloons to create a fun approach to learning tennis. Rackets should be 17"-19" in length.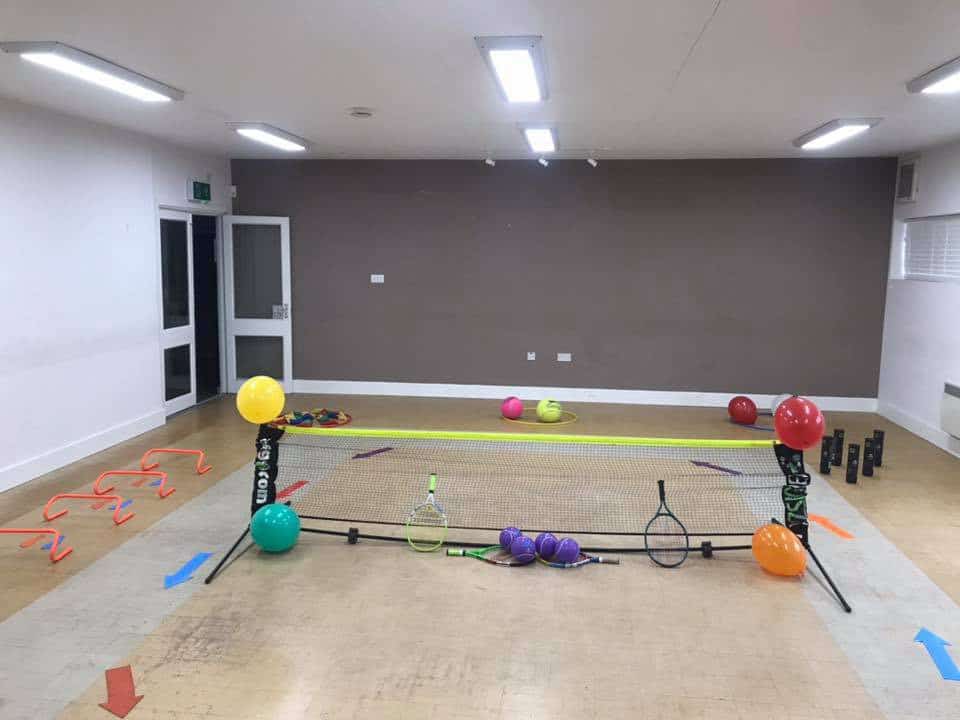 Mini Red
Our Mini Red coaching sessions are for 4-8 years olds, and the players are separated based on their ability within the group. The sessions user larger, lower compression Mini Red felt balls which are 75% slower than a yellow tennis ball. Mini nets are used and the court size is much smaller creating a fun, easy to learn environment. Rackets should be between 19" – 23" in length. The focus of the lesson is around movement, shot technique and co-ordination using various fun drills, games.
Mini Orange
Mini Orange is the next stage up for players aged 8-9 years old. The balls are a normal size, but softer and 50% slower than a yellow tennis ball. The session is played on a court which is three quarters the size of a full tennis court, with the net slightly lowered. Rackets should be 23" – 25" in length. These sessions focus on continuing to improve shot technique and movement, and understanding scoring and tactics using fun drills, tactics and playing points.
Mini Green
When children are 9-10 years old they progress to our Mini Green sessions. The session is played on a full size court and the balls are now only 25% slower than a yellow tennis ball. Rackets should be 25" – 26" in length. The sessions main focus now is on tactics and playing points.
Junior Tennis Beginner/Intermediate
These sessions are played with the yellow tennis ball on the full court. Rackets should be 26" – 27" in length. They are for players that are either new to tennis or looking to improve their technique and all-round tennis ability.
Junior Tennis Advanced/Invite
These sessions are for the more advanced players with the content focusing on tactics, game situations and competitive play. These sessions are for players who are representing the teams or playing in competitions. The coaching team will decide who is invited to these sessions.
Booking
Please contact our Head Coach, Lee for booking and enquiries.